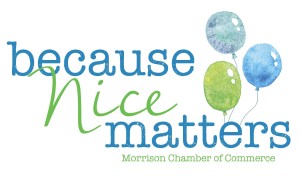 "Your smile is your logo. Your personality is your business card. How you leave others feeling after an experience with you becomes your trademark"
~ Jay Danzie
The Morrison Chamber of Commerce is committed to supporting and recognizing good customer service. Customers are a key part of this effort, because they are the recipients of the exceptional, and sometimes unique, service from area businesses. As such, customers help the Chamber publicly recognize a good experience with a "Because Nice Matters" award nomination.
To nominate someone for the Morrison Chamber's Because Nice Matters Customer Service award, simply fill out the Because Nice Matters Award Nomination Form (link below) and mail or deliver to the Morrison Chamber of Commerce office, located at 221 W. Main Street in Morrison. Thank you for taking time to recognize a JOB WELL DONE!
To download the Customer Service Award Nomination Form, click here.