The Morrison Chamber of Commerce has been a part of Morrison life and business for many years.  First incorporated in 1927, as an official Chamber of Commerce organization, the first roster of Board of Directors included distinguished Morrison businessmen Charles Bent, Jr., owner of the Whiteside News Sentinel, and E.A. Smith of Smith Trust and Savings Bank.
In the 1930's it appears that the organization either became inactive or changed its name to the Merchant's Association.  As the decade waned, the Merchant's Association evolved into the Morrison Improvement Association.  This group remained active throughout the 1940's and into the 1950's.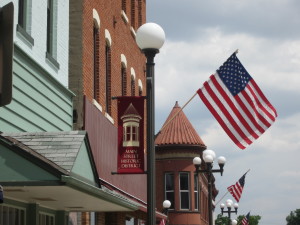 In 1952, the Chamber of Commerce was reactivated by W.E. Beck, publisher of the Whiteside News Sentinel, as president; John Ardapple of Arden's Clothing as secretary; businessmen Vern Renkes of Vern's Home Furnishings; and Jim McDuffy of General Electric.  From the 1950's until the mid-1980's, the Chamber remained the primary business organization.  Then, in 1988, a group of Main Street business owners split off from the Chamber and organized the Morrison Merchant's Association, to bring more focus to the downtown businesses and work to revitalize a sagging Main Street economy.
By 1995, many of the Merchants had rejoined the Chamber organization.  The remaining funds in the Merchant's treasury were generously contributed to a joint Downtown Development, Chamber of Commerce, and Morrison Merchant's project to purchase new planters for the Main Street Business District.
The Chamber has a long history of supporting local businesses through information, referral, workshops, and networking opportunities.  Projects such as the Main Street banners, Christmas decorations, and the Rockwood and Main Street kiosks, enhance and promote the community.  Community events such as the Halloween Parade and the Christmas Walk, contribute to an active, vital hometown.
During these difficult economic times, the Morrison Chamber is constantly evolving to meet the needs of the business community.  We realize the sacrifices that many business owners are having to make to remain viable, which is why it is more important than ever that we offer our valued members relevant services that contribute to their success.